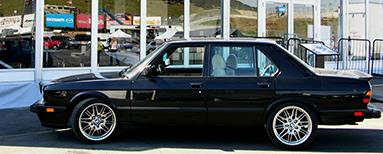 This M5 was my daily commuter for many years...

When my car started showing its age, It was time to sell or restore.

When performance and handling began to markedly decline, I decided to begin restoring/upgrading whenever a problem happened.  Example: struts needed to be replaced... turned into a complete suspension rebuild and upgrade to Dinan stage 4!

The Restoration Mindset

Rather than dred the next problem to surface, I simply approached it from a different mindset. On-going maintenance is a given, but instead of just repairing major problems - why not approach it as an opportunity to upgrade the part and rebuild the sub-system.

Got a question or comment?

Name:

Email:

Question/Comment:

Anxious anticipation on what problem will happen next.

This change in mindset made it FUN to research what-if performance options and cost differences,  just to be prepared for when the "restoration opportunity" arises.

Using this process greatly improved the drivability and performance.  It is again the driving experience I love... with 272,000+ miles on the odometer and still going strong!

All of my maintenance services and upgrades have been performed by local California shops including:

DINAN Performance
(mostly Morgan Hill location, some Mountain View and recently Campbell location).  With all the rebuilding and upgrades I earned a
DINAN badge
!
Bavarian Motorsport in Milpitas, CA.  My M5 has been well pampered by BMI.  Ramon

and Nicole are really great people.  I especially like the "Big brake" upgrade that Ramon completed ...  I appreciate it each time I apply the brakes
BavarianMotorsport.net
A&E Performace (Campbell, CA) no longer in business.  Al's shop was close to where

I lived.  A&E serviced my M5 during many of the heavy mileage years.  My car wouldn't

be on the road still without Al's service and advice.

Questions?  Send me a quick note using the form to the right.


Lots of improvements over the years

Check out the list

Click the picture above to view a NEW Gallery


© 2013 Franz@My88M5.com 

All rights reserved.



Click the Gallery below to view pictures from my May 19th photo shoot.